Characteristic of Coop-Rent Insure
Supports communication in multiple languages
●Total support in multilingual in 24 hours a day, 365 days a year starting before moving-in until leaving the room. A support desk installed ⇒ Support desk will be able to solve the "language problem" which may be concerned by both parties.
Assist in 5 languages
English, Chinese, Korean, Vietnamese, Indonesian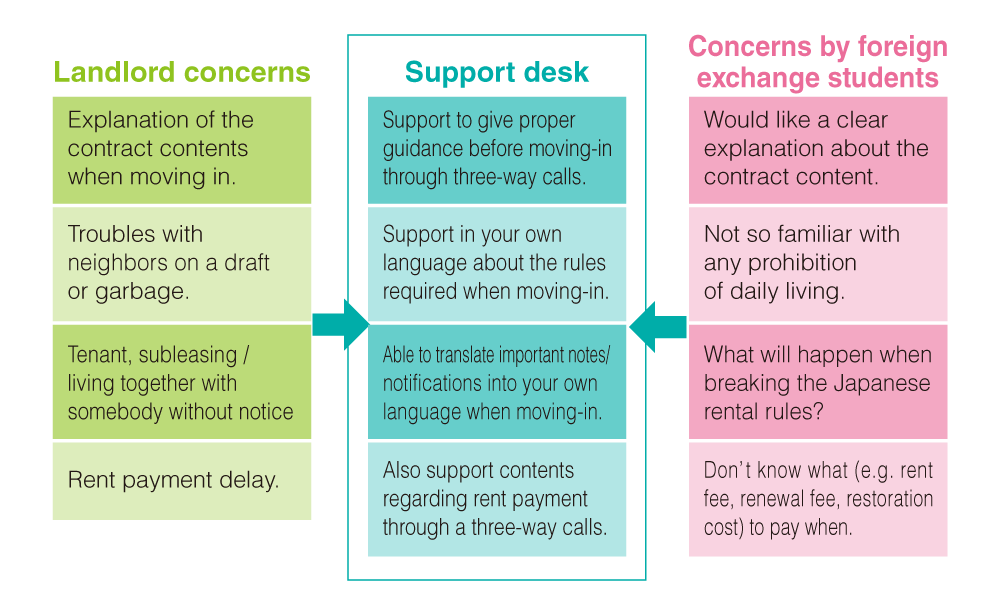 Able to assist for support content related to moving-in such as making consultation or trouble aside of unpaid bills.
Telephone support for initial use in electricity, gas, and water supply
Support for bank transfer application procedure
Trouble support for taking out garbage and noises
Mediate complains such as equipment failure between residents
Support for contract cancellation and renewal
We will help you start a comfortable life!
This is an alternative system for cosigners.
The Coop-Rent Insure will become your guarantor.
Researchers can apply for it.
And foreign researchers can also apply for it.
The procedure is simple.
Just going through a simple procedure,the contract can be completed once it is approved.
The application for it is simple and speedy.
STEP ❶ Application
Please prepare the required documents listed on the middle page of this leaflet, and send application to a rental brokerage company that you will have a contract with.
STEP ❹ Contract
You pay the initial guarantee commission fee and receive a copy of the Warranty Consignment Contract (a copy for the renter) at the rental brokerage company where you will sign a room contract.